Welcome to Wanted: Dead or Dead?.
Two greedy undead bandits cause havoc in the wild west until one day a misterious little girl in a weird outfit hires them in order to help her father.
Demons, monsters and wild west action!

Beware of violence and foul language.
Read L-->R

Updates: Wednesday and Friday.

Comment plz! :3
http://www.smackjeeves.com/comicprofile.php?id=129418

Hello, I am working on a new experimental comic to try out traditional inking and brushes and uh such. So feel free to take a look.

P.S. Wanted is still my priority, and I made the pages of this new comic during the holidays. I'm working on Wanted's new page right now, full color, you'll love it! It should be done by tomorrow!

[ 0 ]
Yep. WDoD?'s first contest has oficially ended. For more information on the contest go to the journal on the DA group here http://wanteddeadordead.deviantart.com/journal/WDoD-Contest-1-Mr-Skelly-s-Show-logo-328495492

[ 0 ]
After too much thinking about it (actually made a poll) I decided to create a group for WDoD? fans out there on DA.
By everything that is coke, feel free to join if you like! Right here http://wanteddeadordead.deviantart.com/

Unlike subcultura, the extras sections here and in DrunkDuck are a bit complicated to manage. There are no notifications about posting new stuff there and they have very seldom visits. So, on that group I'll be posting stuff that I usually don't on my main gallery. Like sketches, concepts, past vote incentives, fanarts, etc.

Some of you with a DA account may be aware by now that I sent you an invitation to join. I also sent you an application to feature some of the fanarts you've made. I have all the fanart you give me in a folder in my docs. That is why I sometimes forget to check on DA if its up there to add it to favorites, etc. If I'm missing someone please let me know! Also, I got some fanart that people who are not on DA or didn't put it up there that I have uploaded to Subcultura (the gallery section there is awesome) and even here using photobucket. I'm not sure if I should put them on the group by myself and give credit.

Anyway, take a look and if you like it, join!
If not, well... i won't hate you. But I'd wish your coke will get warm and taste horrible.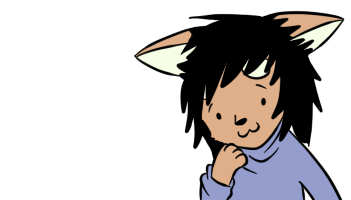 [ 0 ]
Yep. I may rise from the dead a 3rd time. Or 4th or whatever.
Just recovered some of my stuff. And I already sketched a few pages so expect them soon!

Sorry for the inconvenience. I love everyone. Please, don't cut off my limbs for this.

[ 1 ]
lol not really. BRB. Local con.

[ 1 ]
Hey gais. As you may have noticed, updates are not really consistent lately. This is because now that I'm working I hardly have time to work on two pages a week. Either that or just because I get home really tired and I don't finish the page on time. So, from now on, there is no update schedule anymore. But worry not, I will not leave you without any updates at all. Let's put it this way. There will be weekly updates on random day and only one page. I hope you understand.

Also, I'd really like to thank each one of you for your support <3 If there weren't so many readers I woudn't keep working on this, so for that, I thank you. Especially those who comment and give me support every update (you know who you are) THANK YOU. Thank you all very much. You're awesome.

Hugs n' kisses.

[ 2 ]
Finally. A reply feature on SJ. Which is... pretty much the same but with linking to the user name. At least it will notify you if someone replies. I think...

Anyway.Let's do the "New reply feature dance"
Yay!

[ 2 ]
Hey everyone. I'm sorry fot the lack of updates lately.
I was a feeling a bit ill and I was very stressed last week -_- got no room to sleep at home. I sleep either on the floor or the couch and both are nests for red ants. They bit me all over Dx I look like I have the chicken pox again. Luckily the problem is being taken care of. But it still bugs me that I always have the need to scratch Dx
It's so uncomfortable!! The whole week I was like


LEAVE ME ALONE ANTS!!





But they didn't. Now there's a lot of dead ants. Bitches.

[ 2 ]